A kitchen with modern appliances amidst country cottage style features. The elegant white beadboard island worktop unit - custom built with oak surface - is the room's focal point. The fully glazed side return really lights up this beautiful family kitchen. And of course no self respecting contempory kitchen is complete without a wall mounted flat screen TV.
A middle bedroom conversion to an ensuite with walk through dressing room.  Again, Italian design - sink and bidet - combined with cosy English country house character - grey beadboard paneling (conceiling the pipework).
The homeowners' intention is to place a mirror or picture on this custom built panel that conceals (or reveals) the TV; the panel is moved by a motorised arm controlled by remote.  We also offer clients an option whereby a TV raises from within a cabinet (1/3).
The bespoke vintage style display unit finished off the country feel of the kitchen (2/3).
3/3 This purpose built changing room walks through to the bathroom, both converted from a middle bedroom.  The specific wardrobe requirements of our clients dictate shelving, drawers, hangspace etc.  Under floor heating throughout this conversion (3/3).
Yet to be furnished. Our job with the living room was to refloor (oak), refurbish and fit the chandelier (chosen to compliment period feature cornices and mouldings).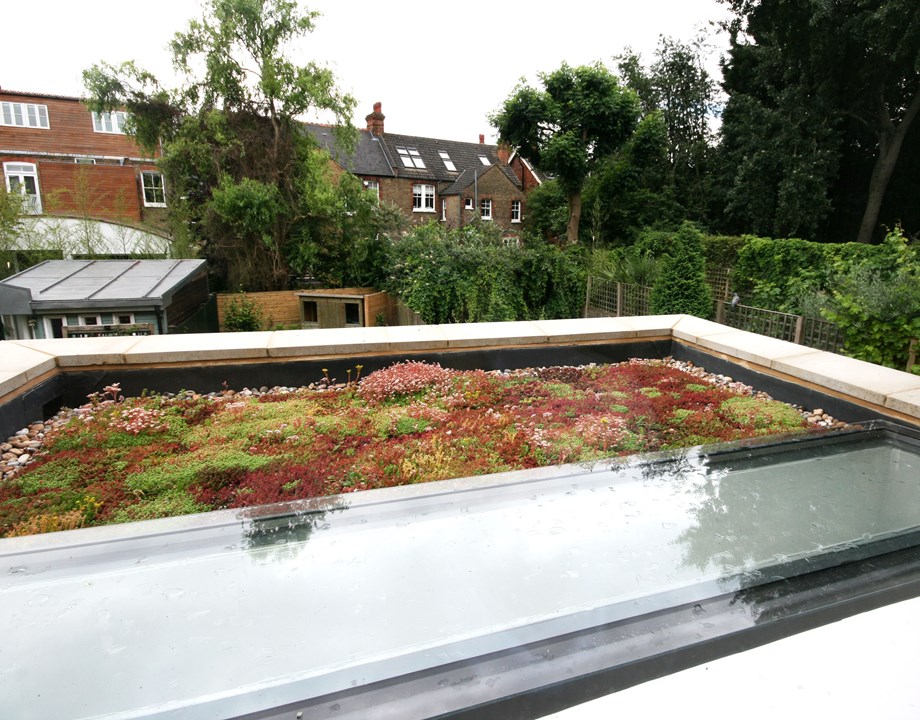 Sedum green roof above the kitchen extension.  
As well as providing a refreshing rear aspect, a sedum roof provides good insulation in cold months (remaining cool when warm too) and ticks the sustainability & biodiversity boxes too.  The fully glazed roofing at the forefront serves to provide natural light to the kitchen's dining area.